Deutsche Bank's report, "Furloughs, layoffs, and recovering from Covid-19" which found that a business's recovery following the financial crisis was directly correlated to its staffing decisions. The report suggests that "in order to "navigate" through the COVID-19 crisis, they should avoid letting workers go". The rationale was that the companies who let the least amount of people go during the financial crisis saw their profits grow by nearly double the rate compared to businesses who let large amounts of employees go. To some extent easy to say except when you're trying to keep your business going and/or profitable.
The furlough system is making a huge difference to company survival and staff retention. At what hidden cost? Interesting to see the HR opinion in the poll attached to this article: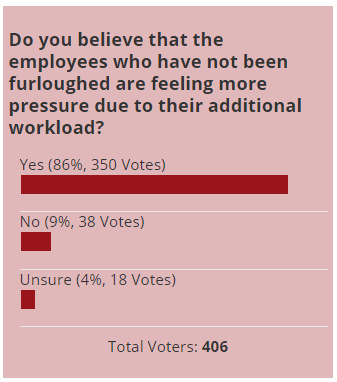 This article also provokes another interesting debate around how much your employees worth. It reports that "European companies tend to make £29,000 per staff member".
How do you compare?
{
Perhaps the biggest difference between the financial crisis and today is the huge increase in furloughing rather than permanent layoffs.There are three reasons for this: most economists and firms expect the Covid-19 crisis to be short, albeit deep; there is a greater risk of reputational damage in laying off staff; and staff have increasingly become more important to companies. Luke Templeman, research analyst at Deutsche Bank
https://www.hrreview.co.uk/hr-news/strategy-news/letting-staff-go-during-now-more-damaging-than-financial-crisis-of-08/125591
unknown

x

500
More posts by PeopleScout
Recent posts from PeopleScout UK